PAIN WISE NEWSLETTER
Good day, the IRS has sent over 207 Billion in Coronavirus relief money to the bank accounts of dead people.
No comment.
NEWS
Home Office Is Painful: Chiropractors have seen a rise in clients seeking treatment for neck and back-related pains amid fears that makeshift office setups are putting muscles under greater strain.
Pain Shots: Lumbar facet blocks and radiofrequency ablation (RFA) are still very controversial according to recent literature from the American Academy of Pain Medicine.
Why? Wide variation in effectiveness and lack of agreed-upon standards in the medical community.
New Book on Back Pain: Dr. Grace Walker Gray's first book, Bye-Bye Back Pain: 9 Holistic Solutions for Relief from Sciatica, Lumbago, Slipped Disc, and Backache is now available on

Amazon.com

in both Kindle and paperback versions, followed by hardback and audiobook versions in June. (prnewswire.com )
Arnold's Stay At Home Stretch Routine. Terminated.
If you need a chuckle, watch this. A special surprise at the end of his video!
New Disc Technique Similar To Tire Repair
A new two-step technique out of Cornell University to repair herniated discs uses hyaluronic acid gel to re-inflate the disc and collagen gel to seal the hole, essentially repairing ruptured discs like you'd repair a flat tire.
After a rupture, a jelly-like material leaks out of a herniated disc, causing inflammation and pain. The injury is usually treated one of two ways: a surgeon sews up the hole, leaving the disc deflated; or the disc is refilled with a replacement material, which doesn't prevent repeat leakages. Each approach on its own isn't always effective.
This new method combines these two methods into a new two-step technique that results in a "patched" disc that maintains mechanical function and won't collapse or deteriorate.
"This combined approach healed annulus fibrosus defects, restored nucleus pulposus hydration, and maintained native torsional and compressive stiffness up to 6 weeks after injury."
More simply, in English-new disc inflation technique was a success.
"This is really a new avenue and a whole new approach to treating people who have herniated discs." – Lawrence Bonassar, Cornell University Professor
PRODUCT WATCH
GOT ONE? RENPHO Cordless Handheld Back Massager-Rechargeable-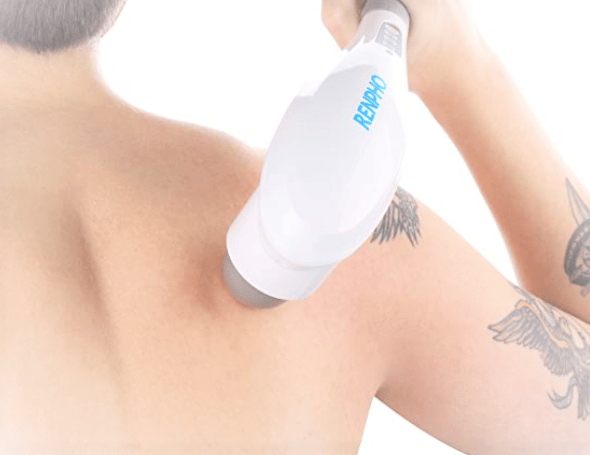 Business Insider has this to say:
"It's plenty powerful and offers up to 3,600 pulses per minute. This massager has five interchangeable head attachments for a pain-relieving deep tissue massage.
With four modes and five speeds, you can customize this massager to your preferences. It's both cordless and rechargeable, and the battery offers about 140 minutes of power when fully charged."
The RENPHO Rechargeable Cordless Handheld Massager has a 4.6 out of 5-star rating on Amazon, based on 70 customer reviews."
Pros: Powerful motor, four modes, and five-speed levels, cordless design.
Cons: Can be a bit noisy, cannot use while charging, shuts off automatically after 20 minutes.
Cost: $55
DDD SPOTLIGHT
Her Big Improvement: Intervention And Hard Work
"Last November I was unable to take a single pain-free step or stand upright. I had been in that state for two years after twenty years of degeneration. I was a mess. I could hardly walk and had been told to get a walker by my "last hope" doctor (I'm only 45). Now I do over 9000 steps daily and I continue to improve. I had two herniated/bulging discs AND vacuum disc phenomenon (aka "bone on bone") in L5-S1. No surgery, no needles, and now my discs are healed… even the one that used to grind if I moved a certain way will now "pop" if I do a twist. A whole new disc there!"
Christy says, "It does take a combination of intervention and hard work, but when people know that it IS possible I believe it makes a huge difference. So many people are told to live with the pain and that's…. well that's just sad."
– Christy K
To learn more about this intervention visit the Nerve and Disc Institute website
https://nervediscinstitute.com/intradiscnutrosis/
MEDICAL RESEARCH
Does Decompression Work For Herniated Discs?
Spinal traction is a form of decompression therapy that relieves pressure on the spine. It can be performed manually or mechanically. It gently stretches the spine, creating negative pressure on the disc causing it to possibly retract and take pressure off of the nerve.
Spinal traction is used to treat herniated discs, sciatica, degenerative disc disease, pinched nerves, and many other back conditions.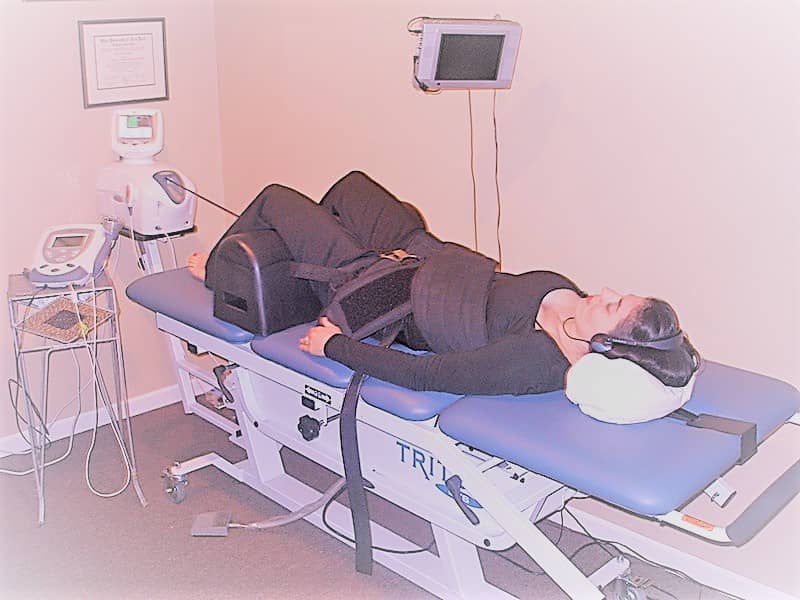 A 2019 study by Kuligowski et al. demonstrated and confirmed a positive effect of traction on the functional status of subjects with lumbar disc herniation. It also said that Traction techniques are safe and can be successfully used in the treatment of Lumbar Disc Herniation.
Interestingly, the age of low back pain sufferers seems to be getting younger and disc herniation is still a primary culprit. This study enrolled patients age 22-35 years.
Can Laser Therapy Reduce Back Pain?
The U.S. Food and Drug Administration (FDA) has cleared biostimulation lasers (a.k.a. low-level laser therapy (LLLT ), cold lasers, soft lasers, or laser acupuncture devices) for marketing as "adjunctive devices for the temporary relief of pain."
There is some research to suggest it may work.
Studies have evaluated patients with chronic low back pain in relation to the combined effectiveness of low-level laser therapy and exercise. These studies showed positive results with the combined approaches.
Currently, the New York Institute of Technology is enrolling patients in a study to determine if the combined effect of low-level laser therapy and osteopathic manipulative medicine (OMM or hands-on stretching, gentle pressure and resistance by a doctor) can be effective for patients with chronic low back pain. So far, nobody has studied this combination treatment.
The name of the study is "Efficacy of Osteopathic Manipulative Medicine (OMM) and Phototherapy for Patients with Chronic Lower Back Pain"
Sign up here if interested: https://www.centerwatch.com/volunteers/registration/
Stats: 50% and 1.6 Million
Ever wonder what percentage of back surgeries are successful? The more important question is how many will you need?
According to a 2018 article published in Asian Spine Journal:
"Although more than 50% of primary spinal surgeries are successful, no more than 30%, 15%, and 5% of the patients experience a successful outcome after the second, third, and fourth surgeries, respectively."
Oh crud.
About 1.6 Million spine fusion surgeries are performed in the U.S each year. Wow.
FITNESS & NUTRITION
3 Summer Foods That Cause Inflammation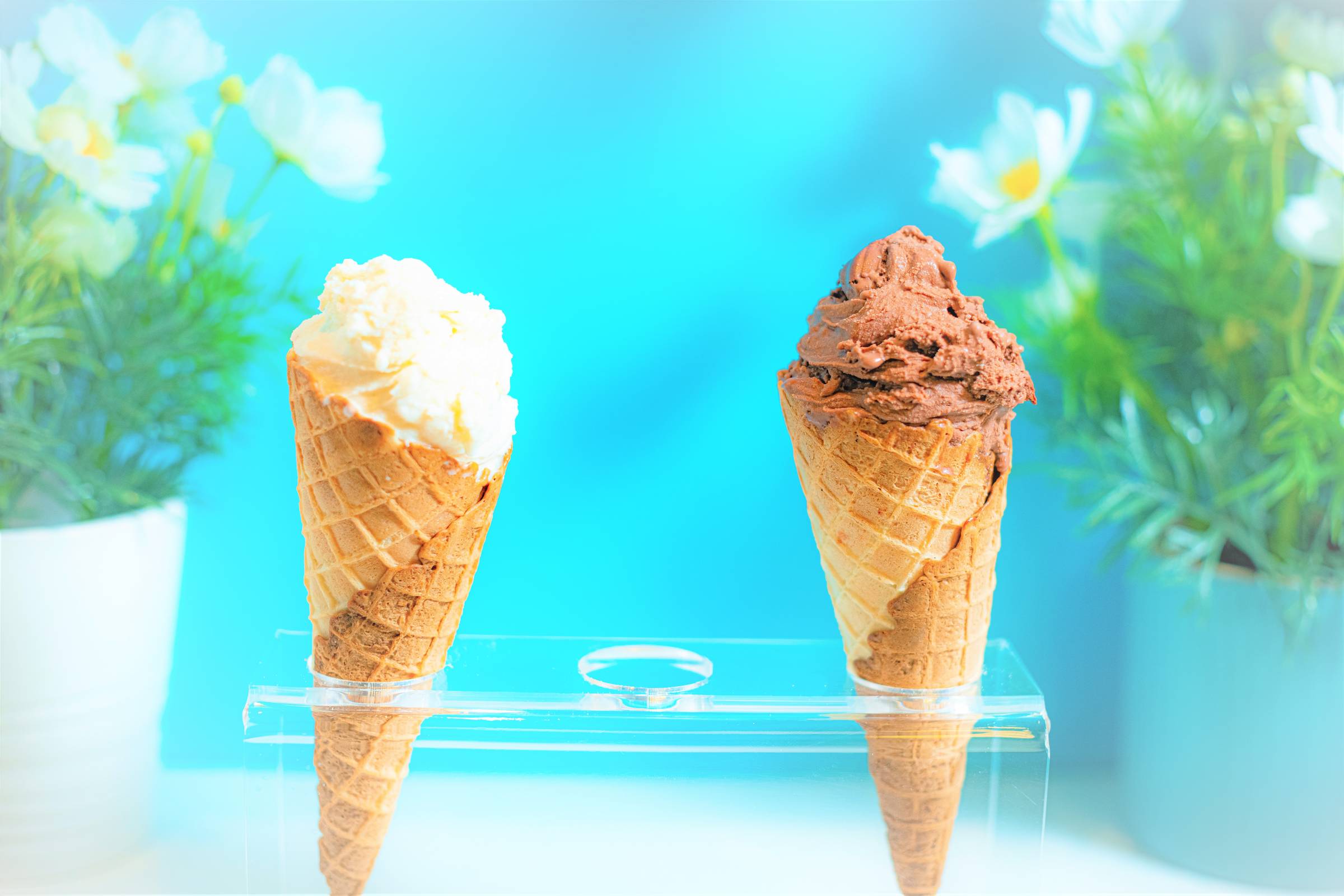 Salad Dressing. According to the Food Network, "Store-bought salad dressings are made with oils like safflower, sunflower, and vegetable oil, which are rich in omega-6. Overdoing it can cause the body to produce inflammatory chemicals. You're better off whipping up your own salad dressing using omega-3 filled olive or canola oil." Avocado oil is awesome too.
Hot Dogs. They are made up entirely of processed meat, filled with saturated fat, which can lead to conditions like heart disease which is associated with excess inflammation. At your next cookout, stick with a grilled chicken sandwich or burger made with lean ground beef. If you must have hot dogs, look for words like: 'uncured', '100% organic beef', 'nitrate-free', grass-fed.
Ice Cream. Life isn't fair. "Although full-fat dairy can fit into a healthy eating pattern, too much of it can backfire on the body. Full fat ice cream is brimming with artery-clogging saturated fat, which is associated with inflammation." – Food Network.
Furthermore, as you may know, sugar, dyes, and preservatives all cause inflammation by damaging the gut lining leading to leaky gut.
Try These Healthy Options Instead
Dark Chocolate: Choose dark chocolate that contains at least 70% cocoa. It is rich in antioxidants called flavanols and has been shown in studies to reduce inflammation. Most studies used 20-30g/day, so the quantity is a bit unclear but I wouldn't eat it all day long.
Red raspberries, Cherries, Blueberries and Strawberries: The same chemicals that give berries their color also have powerful anti-inflammation properties. They contain antioxidants called anthocyanins and flavonoids which can help reduce chronic inflammation.
Garlic: You may know already that it's good for your immune system. But garlic has also shown evidence of being able to reduce substances in the blood that raise inflammation with its Sulphur containing compounds.
WISE UP
Healthy Sleeping
Virtua Health mentions a good reminder about sleep and low back pain.
Dr. Geenleaf says "Lower back pain sufferers usually benefit from sleeping on a medium-firm mattress. However, your preferred sleep position also should influence your mattress selection. To maintain good posture, side sleepers should select a softer mattress.
Back and stomach sleepers should choose a firmer mattress. If you have lower back pain, it's a good idea to avoid sleeping on your stomach altogether."
– Robert Greenleaf, MD, Spine Surgeon
Working From Home And Back Pain
Working from home has contributed to increased weight gain for many Americans, as well as neck and back pain due in part to poor ergonomically designed makeshift office setups.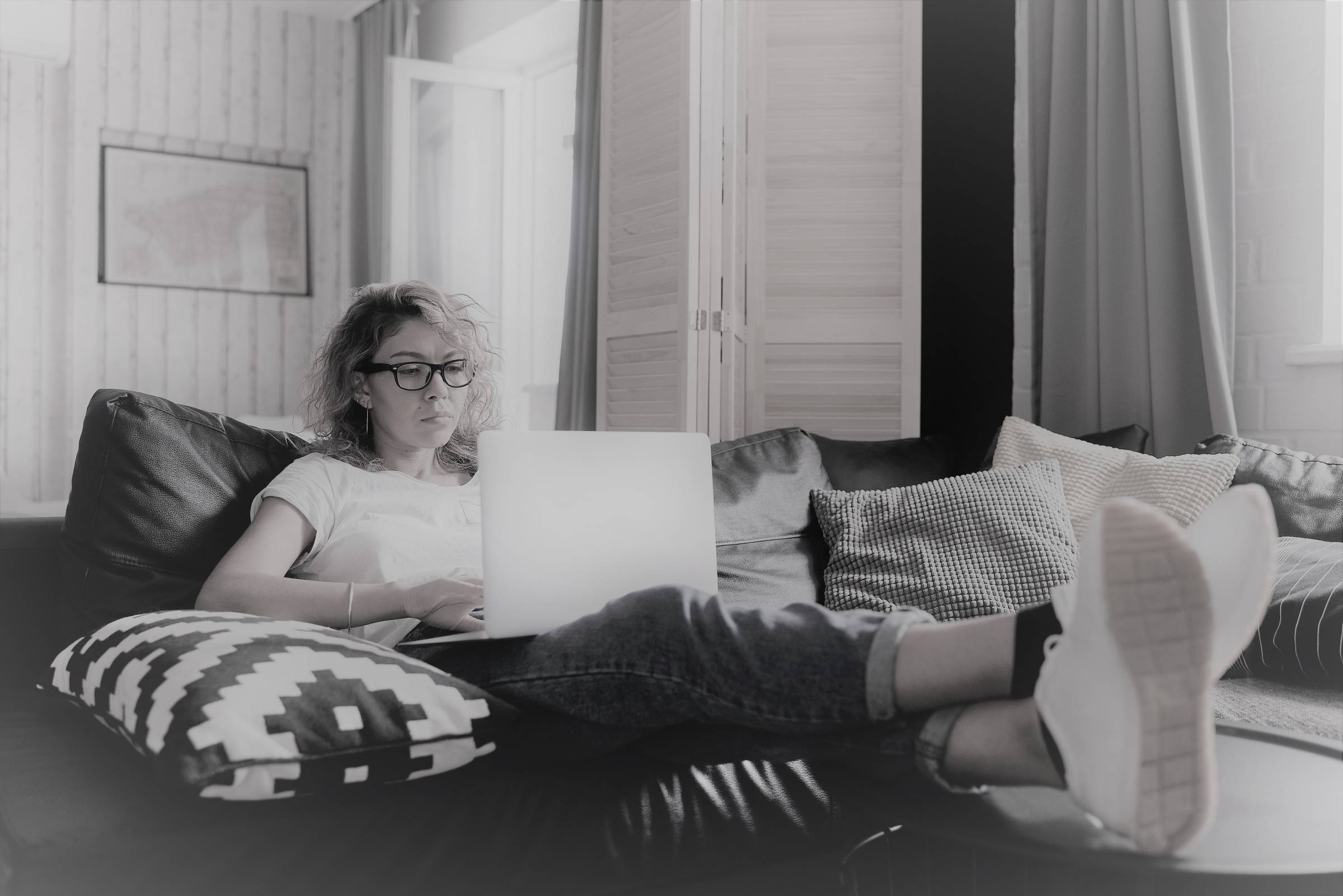 Weight Gain: Try not to wander aimlessly (or purposefully) into the kitchen just because it's nearby. Keep to a regular healthy schedule of meals and snacking. Stay focused. Stay disciplined. Move your office out of the kitchen or move it far from the kitchen. Research shows that the more effort that food requires to eat, the less likely you will be to eat it.
Muscle Tightness: For every 30 minutes of sitting, get up and walk, stretch or stand for 2-3 minutes. Keep a fit ball or yoga mat nearby and use it periodically throughout the day to alleviate muscle strain. Personally , I also rotate between three different chairs and use a standing desk.
Simple Truth: A Kaia Health Survey of more than 25,000 people found that isolation and lockdown have increased people's back pain due to higher than normal couch and computer time.
QUOTE OF THE WEEK
"Start by doing what's necessary; then do what's possible; and suddenly you are doing the impossible."

-Francis of Assisi
FUNNY
This TP is really sweet
Reuters reports that "A quick-thinking Helsinki Finland bakery has saved itself from financial ruin due to the new coronavirus pandemic by creating a cake that looks like a toilet paper roll."
QUIZ
What is the prevalence of degenerative disc disease in adults age 40 years?
20%
70%
40%
Answer below at the end.
CONNECT
Back Pain Wise
Strong: Body. Mind. Spirit.
QUIZ ANSWERS
40 % -Nice job oh Wise One.
©2020 Back Pain Wise. All rights reserved.
Sources:
Source: https://www.news-medical.net/news/20200311/New-two-step-technique-to-repair-herniated-discs.aspx
Source:
https://pubmed.ncbi.nlm.nih.gov/32015202/?from_term=traction+disc+pain+&from_filter=ds1.y_1&from_pos=2
Journal of Orthopedics Tramatology and Rehab 2019 Jun 30;21(3):187-195
Gur, A et. al. (4) and Djavid, GE et. al.
Asian Spine J. 2018 Apr; 12(2): 372–379.